PowerEdge R230 Rack Server
Powerful, efficient, versatile.
Consolidate data and drive applications faster with the powerful, efficient and versatile PowerEdge R230 1-socket, 1U entry rack server. 0703 CS Test – 3
Compare
Processor
1 processor from the following product families:
Intel® Xeon® processor E3-1200 v6 product family
Intel Pentium®
Intel Core i3®
Intel Celeron®
Operating System
Microsoft® Windows Server® 2012
Microsoft Windows Server 2012 R2, x64
Microsoft® Windows Server® 2016
Red Hat® Enterprise Linux®
VMware Vsphere® ESXi®
SUSE® Linux Enterprise Server®
Chassis
2 x 3.5″ cabled HDD 19.5″ 1U chassis
4 x 3.5″ cabled HDD 19.5″ 1U chassis
4 x 3.5″ Hot-Plug HDD 19.5″ 1U chassis
Communications
2 x 1GbE LOM
Dimensions
Depth without bezel: 495.0 mm (19.5 in)
Depth with bezel: 551.3 mm (21.7 in)
Height: 42.8 mm (1.68 in)
Width without rack latches: 434.0 mm (17.08 in)
Width with rack latches: 482.4 mm (18.99 in)
Drive Bays
2 x 3.5″ cabled HDD 
4 x 3.5″ cabled HDD 
4 x 3.5″ hot swap or 2.5″ hot swap in hybrid drive carrier
Device Access
5 Total USB:
Rear: 2 x USB 3.0 ports 
Front: 2 x USB 2.0 ports 
Internal: 1 x USB 3.0 port
Embedded Hypervisor (Optional)
Hypervisor Support
Microsoft Windows Server with Hyper-V®
VMware® vSphere® ESXi®
Memory*
Architecture: Up to 2400MT/s DDR4 DIMMs
Memory Type: UDIMMs
Memory Module Sockets: 4
Maximum RAM: Up to 64GB
Management
Systems management:
IPMI 2.0 compliant
Dell OpenManage Essentials
Dell OpenManage Mobile
Dell OpenManage Power Center
Dell OpenManage Integrations: 
Dell OpenManage Integration Suite for Microsoft System Center
Dell OpenManage Integration for VMware vCenter™

Dell OpenManage Connections:
HP Operations Manager, IBM Tivoli® Netcool® and CA 
Network and Systems Management 
Dell OpenManage Plug-in for Oracle® Database Manager
Remote management:
iDRAC8 with Lifecycle Controller, iDRAC8 Express (default), 
iDRAC8 Enterprise (upgrade), 8GB vFlash media (upgrade),16GB vFlash media (upgrade)
Network Controller
Broadcom® BCM5720
Rack Support
ReadyRails™ static rails for tool-less mounting in 4-post racks with square or unthreaded round holes or tooled mounting in 4-post threaded and 2-post racks.
RAID Controllers
S130, H330, H730, H830
Slots
2 x PCIe 3.0 slots: x16 slot, full height (1×8 PCIe 3.0)+ x8 slot, low profile (1×4 PCIe 3.0)
Storage
2.5" SATA 7.2K
2.5" nearline SAS 7.2K
2.5" 10K SAS HDDs
2.5" 15K SAS HDDs
2.5" SATA HDDs 
3.5" Enterprise SATA 7.2K HDDs
3.5" nearline SAS 7.2K HDDs
3.5" 7.2K SATA entry drives
---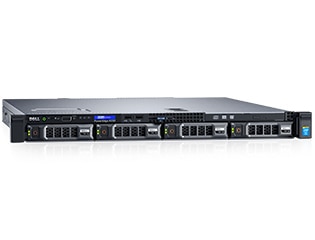 Get organized and become more productive
Consolidate data from multiple laptops or desktops onto a single server with up to 4 x internal 3.5″ cabled or hot-plug HDD.
Ensure fast response times with the latest quad core Intel® Xeon® E3-1200 v6 product family, as well as flexible dual core processor options including Intel Pentium®, Intel Core i3®, or Intel Celeron®.
Adapt to changing workload conditions with a virtualization-ready server supporting Citrix® XenServer®, Microsoft® Windows Server® with Hyper-V®, VMware® vSphere® ESXi®, and Red Hat® Enterprise Virtualization.
---
Accelerate application performance
Drive greater memory performance and expand capacity up to 64GB through time with 4 x DIMM slots and enhanced DDR4 memory, offering 50% faster clock speed than previous-generation DDR3 which is 12.5% faster than the initial 2133 MT/s implementation of DDR4.*
Boost data throughput with 2 x PCIe Gen 3.0 slots driving 2x data throughput compared to Generation 2.0.
Drive 2x IOPS performance with the PowerEdge PERC9 RAID Controller compared to the previous-generation PowerEdge R220 equipped with PERC8.*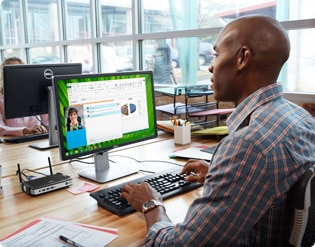 ---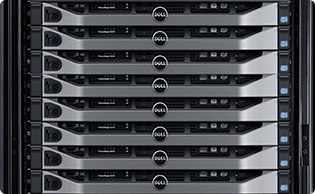 Reliable, worry-free operation
Deploy rapidly and turn the server over for productive work sooner with Dell OpenManage systems management solutions.
Easily monitor system health and behavior with a simple, intuitive Dell OpenManage Essentials console.
Save IT administrator time by automating firmware updates — up to 92% reduction in firmware update time using Repository Manager auto-updates compared to manual updates.*
No more offers for this product!
General Inquiries
There are no inquiries yet.