PowerEdge R430 Rack Server
Powerful, compact computing.
Peak 2-socket performance for HPC, web tech and infrastructure scale-out.
Compare
Processor
Intel® Xeon® processor E5-2600 v4 product family
Processor sockets: 2
Operating System
Microsoft® Windows Server® 2008 R2
Microsoft Windows Server 2012
Microsoft Windows Server 2012 R2
Microsoft® Windows Server® 2016
Novell® SUSE® Linux Enterprise Server
Red Hat® Enterprise Linux
VMware® ESX®
Availability
ECC memory
Single Device Data Correction (SDDC)
Spare Rank
Hot-plug hard drives
Hot-plug redundant power
iDRAC8 with Lifecycle Controller
Support for HA clustering
Virtualization-ready
Internal Dual SD Module (Failsafe Hypervisor)
TPM 1.2
Chipset
Intel® C610 series chipset
Communications
Optional add-in NICs, HBAs
Drive Bays
Multiple R430 chassis available:
10 x 2.5″ hot-plug drives
8 x 2.5" hot-plug drives
4 x 3.5" hot-plug drives
4 x 3.5" cabled drives
Memory*
DDR4 DIMMs at up to 2133MT/s
Maximum RAM: Up to 384GB (12 DIMM slots): 2GB/4GB/8GB/16GB/32GB
---
Hypervisor Support
Citrix® XenServer®
Microsoft® Windows Server® 2008, with Hyper-V®
VMware® vSphere
Management
Systems management:
IPMI 2.0 compliant
Dell OpenManage Essentials
Dell OpenManage Mobile
Dell OpenManage Power Center
Remote management:
iDRAC8 with Lifecycle Controller
iDRAC8 Express (default)
iDRAC8 Enterprise (upgrade)
8GB vFlash media (upgrade)
16GB vFlash media (upgrade)

Dell OpenManage Integrations:
Dell OpenManage Integration Suite for Microsoft® System Center
Dell OpenManage Integration for VMware® vCenter™

Dell OpenManage Connections:
HP Operations Manager
IBM Tivoli® Netcool® and CA Network and Systems Management
Dell OpenManage
Network Controller
4 x 1GbE LOM
RAID Controllers
Internal:
PERC S130
PERC H330
PERC H730
PERC H730P
External:
PERC H830
Storage
SAS, SATA, Nearlline SAS, SSD
Graphics Card
Video Type: Integrated Matrox G200 with iDRAC8
Video Memory: 16MB shared with iDRAC8 application memory
---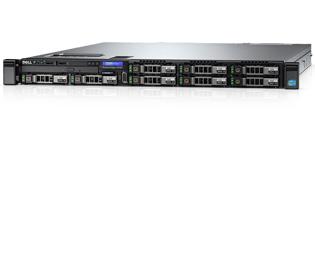 Peak 2-socket performance in a compact package
Delivering peak 2-socket performance to space-constrained data centers, the PowerEdge R430 is a short-depth (24″) entry rack server. It is an excellent fit for a wide range of workloads, including:
High-performance computing (HPC)
Web serving
Infrastructure scale-out
Surveillance and site security
The R430 is also highly attractive as a dedicated backup or development server.
---
Deliver peak performance
Drive powerful performance across a wide range of workloads with the latest Intel® Xeon® processor E5-2600 v4 product family, with up to 22 cores per processor. Boost memory and I/O performance with:
12 DIMM slots that allow you to grow memory capacity over time
DDR4 memory that provides as much as 15 percent greater memory bandwidth and draws up to 30 percent less power than previous-generation DDR3 RAM
Up to 10 high-IOPS 2.5″ hard drives and two PCIe Gen3 slots that drive twice the data throughput compared to PCIe Gen2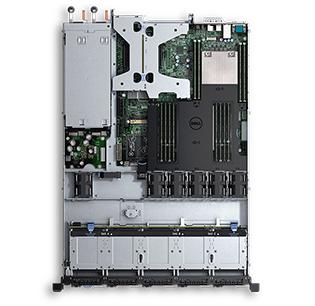 ---
Scale and adapt with greater versatility
Harness the data explosion with scalable internal storage capacity, and flexibly adapt to changing workload conditions with an expandable platform ready for virtualization and high-availability clustering. As you grow, ensure a high level of protection for your virtualized workloads with hypervisor redundancy through Dell's innovative Failsafe Hypervisor.

---
Maximize operational efficiency
Save time and reduce potential for error with systems management features that automate your PowerEdge server lifecycle management tasks.
Speed time to production and drive better ROI by automating OS deployment, server configuration and updates with the integrated Dell Remote Access Controller 8 (iDRAC8) with Lifecycle Controller.
Control data center availability more effectively by monitoring and managing the health and availability of Dell PowerEdge servers anytime, anywhere through OpenManage Mobile and a handheld device.
Harness your energy budget with energy-efficient processors, memory and power supplies. Fresh Air 2.0 configurations allow you to operate confidently at extended temperatures without the need for chilled air.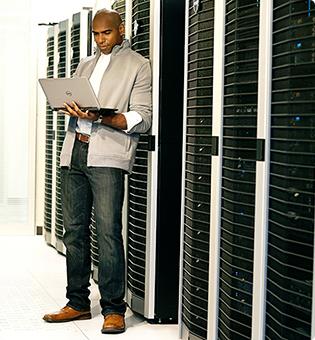 No more offers for this product!
General Inquiries
There are no inquiries yet.