PowerEdge T430 Tower Server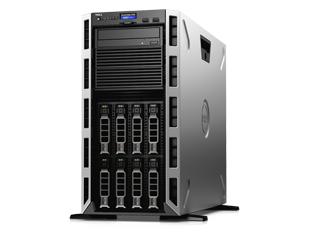 Powerful, expandable and quiet
The PowerEdge T430 tower server delivers powerful 2-socket performance, expandability and quiet operation to small businesses and organizations.
The T430 is an ideal choice for a wide range of office workloads, such as:
Workgroup collaboration and productivity
Mail and messaging
File and print serving
Web serving
---
Deliver peak performance
Accelerate your applications with the latest Intel® Xeon® processor E5-2600 v4 product family and boost memory and I/O performance with:
DDR4 memory that provides as much as 15 percent greater memory bandwidth than previous-generation DDR3 RAM
12 DIMM slots that enable you to expand memory capacity as needed
Six PCIe Gen3 slots that deliver twice the data throughput compared to PCIe Gen2
---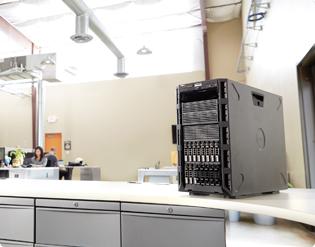 Scale and adapt with greater versatility
A highly flexible design lets you deploy server performance where it's needed and adapt as your requirements change over time.
Install the T430 in a range of environments, thanks to a rackable tower design, short 22-inch depth and quiet acoustics.
Expand your storage with your choice of internal hard-drive form factors and capacities, while protecting data with RAID options.
Adapt to evolving workload demands with an expandable, virtualization-ready platform.
---
Maximize operational efficiency
Save time and reduce potential for error with simplified, intuitive systems management, and help reduce costs with energy-efficient features.
Simplify administration by automating deployment, management and updates with the integrated Dell Remote Access Controller 8 (iDRAC8) with Lifecycle Controller.
Control server availability more effectively by monitoring and managing the health and availability of PowerEdge servers anytime, anywhere through OpenManage Mobile and a handheld device.
Harness your budget with energy-efficient processors, memory and power supplies. Fresh Air 2.0 configurations allow you to operate at extended temperatures without chilled air.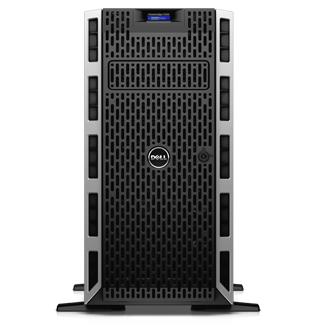 Compare
Processor
Intel® Xeon® processor E5-2600 v4 product family
Processor sockets: 2
Operating System
Microsoft® Windows Server® 2008 R2
Microsoft Windows Server 2012
Microsoft Windows Server 2012 R2
Microsoft® Windows Server® 2016
Novell® SUSE® Linux Enterprise Server
Red Hat® Enterprise Linux
VMware® ESX®
Availability
ECC memory
Single Device Data Correction (SDDC)
Spare Rank
Hot-plug hard drives
Hot-plug redundant power
iDRAC8 with Lifecycle Controller
Support for HA clustering
Virtualization-ready
Internal Dual SD Module (Failsafe Hypervisor)
TPM 1.2
Chassis
Height:
Chassis base height – 430.3 mm (17.04″)
with feet – 443.3 mm (17.45″)
Width:
Chassis base width 5U – 218 mm (8.58″)
with feet – 304.5 mm (11.98″)
Depth:
front to rear wall (with bezel) – 558.6 mm (21.99″)
Chipset
Intel C610 series chipset
Communications
Broadcom 5720
Optional add-in NICs
Drive Bays
Up to 8 x3.5" SAS, SATA, nearline SAS,SSD drives with optional flex bay
Up to 4 x3.5" SAS, SATA, nearline SAS,SSD drives with optional flex bay
Up to 16 x 2.5" SAS, SATA, nearline SAS, SSD drives with optional flex bay
Embedded Hypervisor (Optional)
Citrix® XenServer®
Microsoft® Windows Server® 2008, with Hyper-V®
VMware® vSphere
Memory*
Up to 2400MT/s DDR4 DIMMs
Maximum RAM: Up to 384GB (12 DIMM slots): 4GB/8GB/16GB/32GB
Management
Systems management:
IPMI 2.0 compliant
Dell OpenManage Essentials
Dell OpenManage Mobile
Dell OpenManage Power Center
Remote management:
iDRAC8 with Lifecycle Controller, iDRAC8 Express (default), iDRAC8 Enterprise (upgrade), 8GB vFlash media (upgrade),16GB vFlash media (upgrade), iDRAC Quick Sync
Dell OpenManage Integrations:
Dell OpenManage Integration Suite for
Microsoft® System Center
Dell OpenManage Integration for VMware® vCenter™
Dell OpenManage Connections:
HP Operations Manager, IBM Tivoli® Netcool® and CA Network and Systems Management
Dell OpenManage Plug-in for Oracle® Database Manager
Network Controller
2 x 1GbE LOMs
Power
495W, 750W, 1100W hot-plug PSU
450W cabled PSU
RAID Controllers
Support for a maximum of 1 internal controller and one external controller
PERC Η730,PERC Η730P and PERC Η830
Software
Hypervisor Support

Citrix® XenServer®
Microsoft Windows Server 2008, with Hyper-V
VMware® vSphere
Slots
Support for up to 2 x PCIe 2.0 + 4 x PCIe 3.0
Storage
SAS, SATA, nearline SAS, SSD
Graphics Card
Video Type: Integrated Matrox® G200 with iDRAC8
Video Memory: 16 MB shared with iDRAC8 application memory
No more offers for this product!
General Inquiries
There are no inquiries yet.